Japanese Cafe Food And Bakes @ Haikara Style Cafe, E-Tiara Apartments, Subang Jaya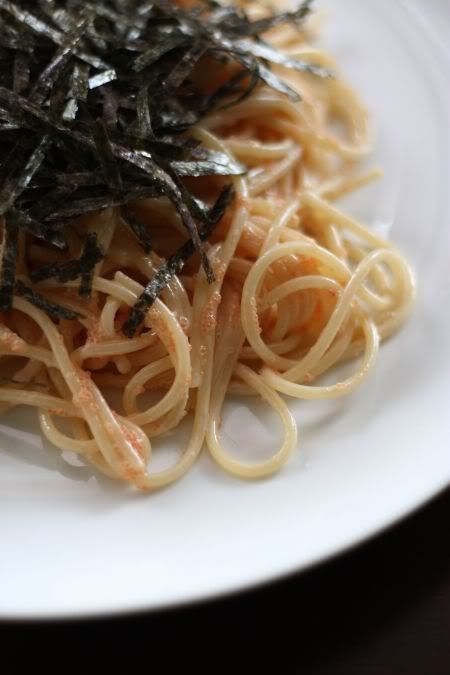 yummy mentaiko pasta - every strand has the creamy roe
Since yesterday was a cop out on a food review (not much in terms of food but more on alcoholic beverages), here's something else to make up for that. While Shah Alam can be quite dreadful for food choices, luckily there is Subang Jaya nearby. I discovered this quaint cafe's existence when I visited B&N Cafe nearby and this is now, a favourite place to hangout for lunch. Run by a Japanese couple who hail from Nagoya, I find the food served here to be simple but extremely good since it is served piping hot and made with a lot of care.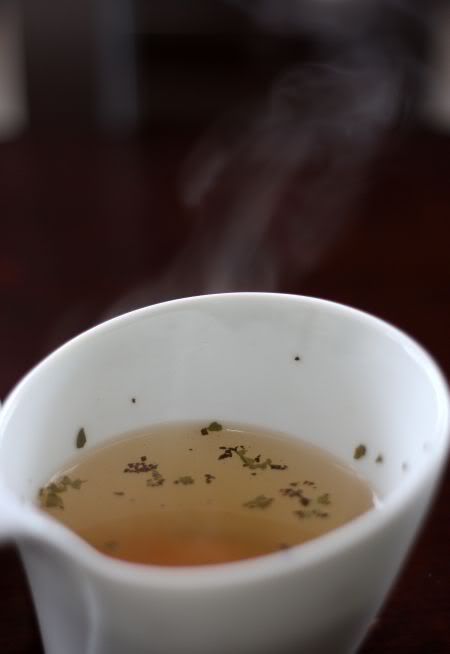 the soup is served in a cute cup, which is piping hot hence the steam...

Each item you order is usually served with either soup, salad or a roll baked at their premises. The clear soup in a cup is always piping hot and flavoured with a sprinkle of coarse black pepper and dried herbs. Sometimes you get shredded carrots and potato cubes lurking in the hot and satisfying soup. I recently introduced Splashie Boy to this place and like me, he has also taken a liking to the food here.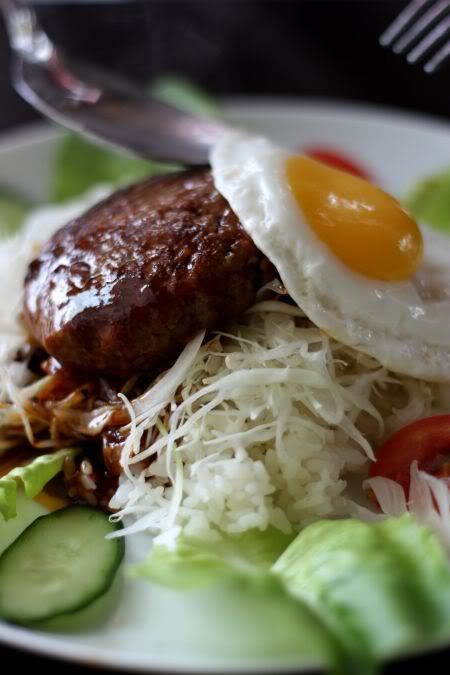 delish Rokoro Hamburg that Splashie Boy loves

His favourite is the Rokoro Hamburg (RM25) - a homemade burger that is juicy and melts in the mouth. Topped with a fried egg, you enjoy this with rice and shredded cabbage. My favourite here is their Mentaiko Pasta (RM18). Each strand of al dente pasta is coated lightly with cream and cod roe, making every mouthful simply delish. The Japanese curry is also very comforting with rice and pickles. You even get to choose how hot you want it to be. I had mine with rice (you can also ask for pasta) and chicken katsu.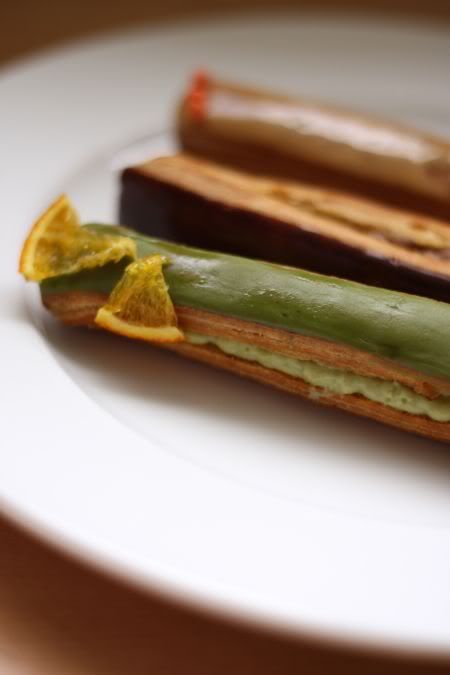 assorted eclairs to tempt you; matcha, chocolate and caramel (RM4 each)
The cafe is also a bakery whereby items are 100% natural with no preservatives, additives or artificial colours. A selection of rolls, buns (such as Melon Pan), cakes (the ever famous Castella or Kasutera), cream puffs, eclairs and etc. I got to sample quite a few of these baked goodies as I bought them a few times. I loved the matcha bread, which I took half a loaf (RM8.80). While the flavour is very mild, the soft bread has bits of sweetened bean hidden within that give flavour to the plain tasting bread. The eclairs are a little skinnier than I would like but they do taste pretty good especially eaten cold from the fridge. If you prefer something different, they also serve mont blanc (a dessert made from chesnut cream) or the tri-colour puff, which is filled with whipped cream, pastry cream and chesnut cream.
I am partial to the banana cream roll - swiss roll with cream and banana within as it reminds me vividly of a dessert I loved to buy in Singapore. Served in a Japanese cafe (I think it was called Suzuki), they had a creamy chocolate version dusted with cocoa powder. It was always a must whenever we visited Singapore. Another item I liked was the kasutera made from egg yolks and honey. A little sweet, the cake resembles those old fashioned eggy cakes (kai tan kou) made by Chinese bakeries. Not sure how the bakery is going to do in the future though, as a new bakery is set to open next door.
The cafe tends to be quiet during weekdays but bustling with people during the weekends. It is best to eat lunch here as they close early. However, sometimes when it gets busy, be prepared to wait as they don't have many people cooking the food. One bummer about this place is I find the cafe a little stuffy probably because of the glass windows that retain heat. Nevertheless it is still a great place for a peaceful lunch far from the madding crowd. More pixs in the Flickr set including the goodies from their bakery.
Haikara Style Cafe & Bakery
E-Tiara Service Apartments
GF Jalan SS16/1
Subang Jaya
Tel :03-5630 0743
(Pork free. Open from 9.30 to 6pm daily except Mondays. Parking is available in front or at the visitors carpark at E-Tiara apartments.)
*Disclaimer: The opinions expressed here is entirely based on my personal tastebuds and may vary for others. This review is time sensitive; changes may occur to the place later on that can affect this opinion. The reviewer also declares that she has not received any monetary or non-monetary compensation from this place for writing the review.

Tagged with: Japanese Cafe Food + Subang Jaya
Other reviews:
she, the epicurious girlSweets for my sweet tooth