Dining Out @ Groove Junction, Desa Sri Hartamas, Kuala Lumpur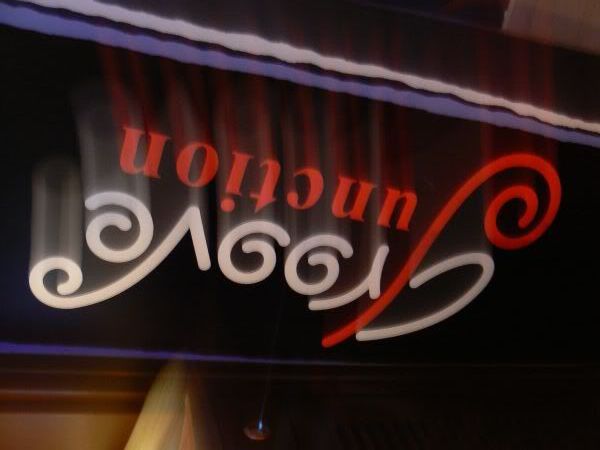 I took a break from blogging yesterday as I wanted a good rest. It worked well as I'm back on my feet again (slowly). My total C diet also helped a lot - Vitamin C for boosting my immunity, Celebrex for the headache and fever plus Clarinase for the cold.
Rather than deprive you of one more day without blogging, here's a huge dosage of pictures at this place we visited just this week. It's also appropriate for the weekend which is just round the corner. We were invited by a fellow blogger, dDoinkster Speaks to sample the food at this jazz club known as Groove Junction. Located on top of Karma and opposite the Hong Leong Bank Berhad, it's a nice cosy place which you can enjoy good food while listening to live music.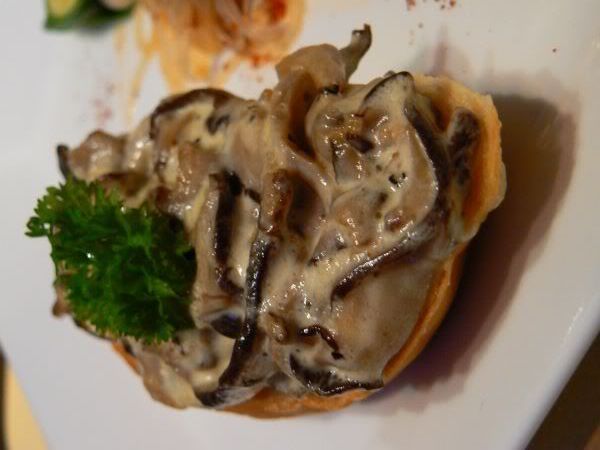 There's two chefs in the kitchen, Chef Ellena and Chef Panne. Chef Ellena is Korean and used to run a cafe at the Riana Green condominiums. We sampled quite a few items from the menu - first off were the appetisers - Mushroom Bruschetta and Yam Nam. Mushroom Bruschetta (RM13.90) was seriously good, toasted french loaf topped with creamy mushrooms. I like how the cream sauce wasn't too rich and well balanced with the rich woody taste of the mushrooms.
Next was the Yam Nam (RM15.90) - glass noodles tossed in roast beef slices. Squeeze some lime juice and toss the glass noodles with the chopped chilies for a piquant and spicy appetizer. There's also a kaffir lime leaf for additional fragrance. Although the portions look quite small here, note that these appetizers are samplers only of the actual size.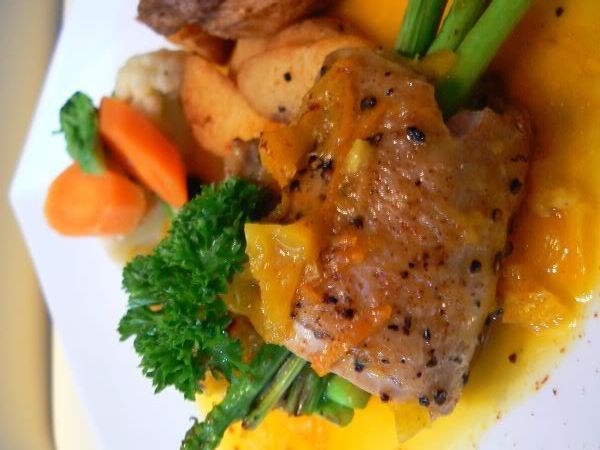 The food here is described as a fusion of East meets West with some emphasis on Korean dishes like Arirang (Beef Bulgogi with Rice) and Korean Noodles. Items on the menu have also been given names of jazz greats like Billie Holiday, Ellington, Ronnie Scott and etc. For the main meals, we sampled the Sonny Rollins - pan fried chicken rolls with orange sauce (RM21.90). Served with butter vegetables and potato wedges. The chicken was tender and I really liked the sauce. It was not too sweet or too sour.
This was everyone's favourite - Ellena's Lamb Steak (RM25.90) served with mash potatoes and salad. Based on a secret recipe by Chef Ellena, the lamb is tender and so juicy. Seems she marinates it with a type of fruit hence the meat tenderises.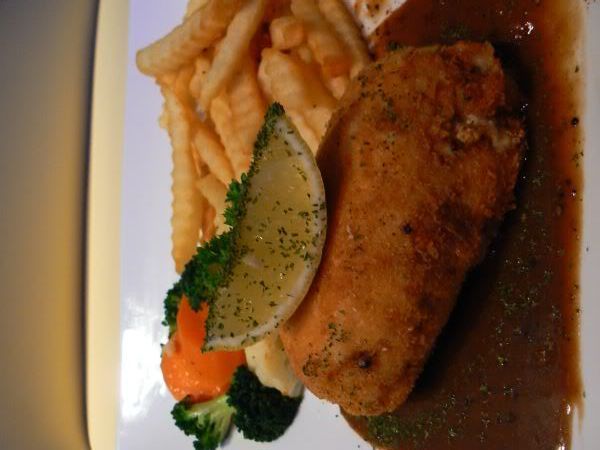 Next was the Dexter Gordon (RM28.90) - breaded chicken breast with a ham and cheese filling. Essentially a Chicken Cordon Bleu, I liked the thin layer covering the chicken breast. If you have seen the ones you get at say Secret Recipe, it's always so thick and dripping with oil. The filling is nice and juicy too.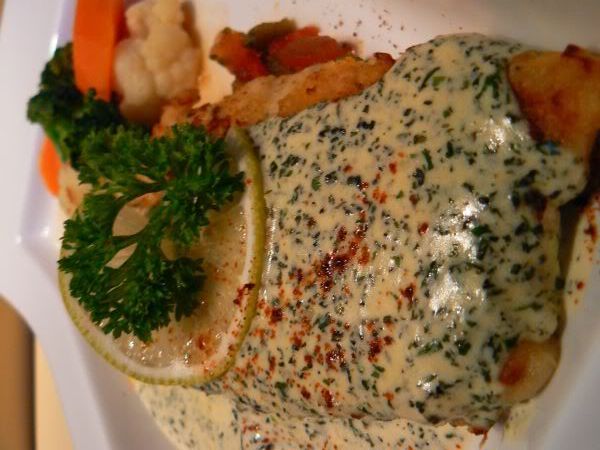 We also had the Billie Holiday (RM32.90) - pan fried sole served with creamy mint sauce. The sauce is not too rich with the addition of the mint leaves.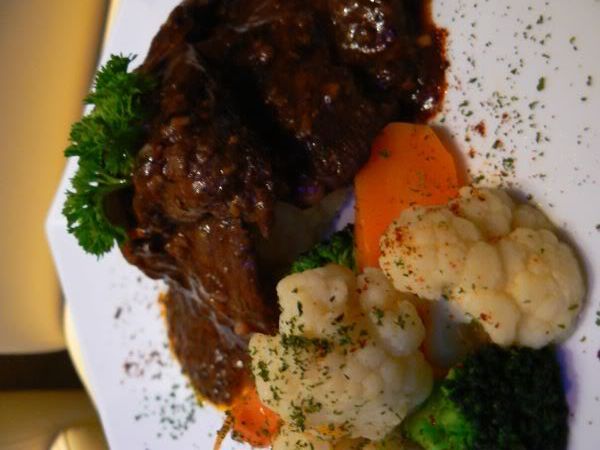 The Beef Panne (RM21.90) - grilled beef with herbs served with mash potatoes and buttered vegetables was also delicious. Tender beef slices mixed with a nice herby sauce.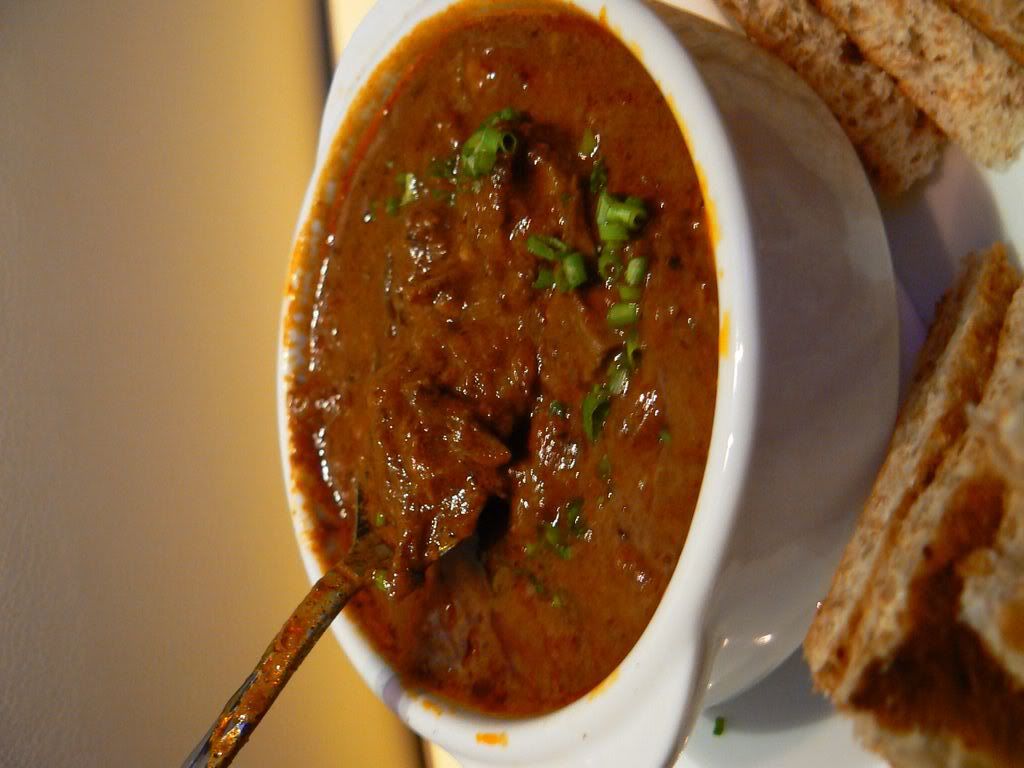 They also serve a variety of finger foods - perfect for nimbling the night away while you listen to the music. There's lamb curry with toasted bread (RM15.90) if you wish for something spicy.
Try the Fried Chickalinas (RM15.90) if you want a more substantial snack. Tender pieces of chicken is marinated in a special sauce that reminds me of char siu minus the sticky sweetness of honey.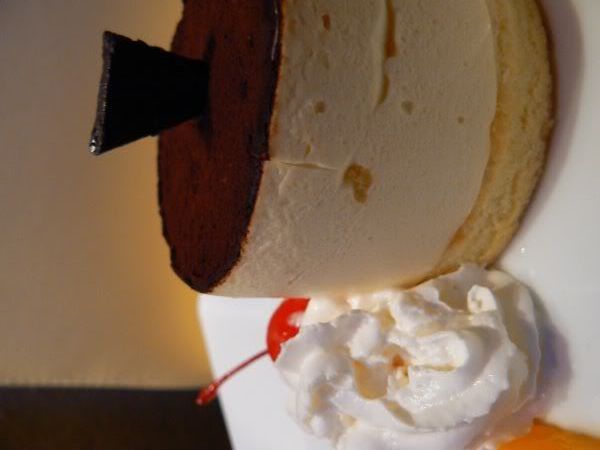 Don't forget desserts - there's a small selection of it. Start with Tiramisu(RM12.90) served with whipped cream and fruits. Nice and light, the cream base is not too rich.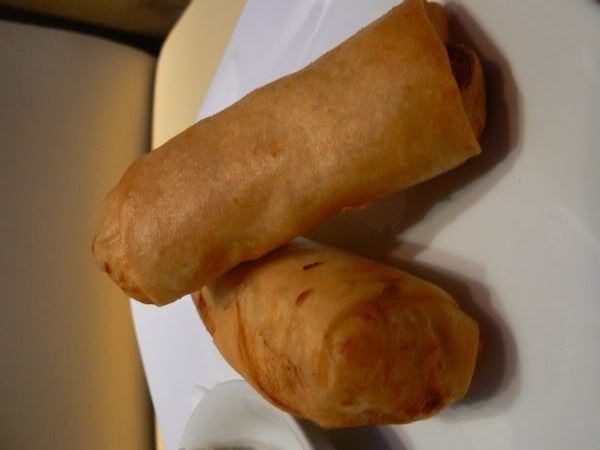 Then there is the Roll Morton (RM14.90) - Creamy Banana Rolls with Ice Cream. Eat it while it's hot as the filling is deliciously fragrant and made from Pisang Berangan.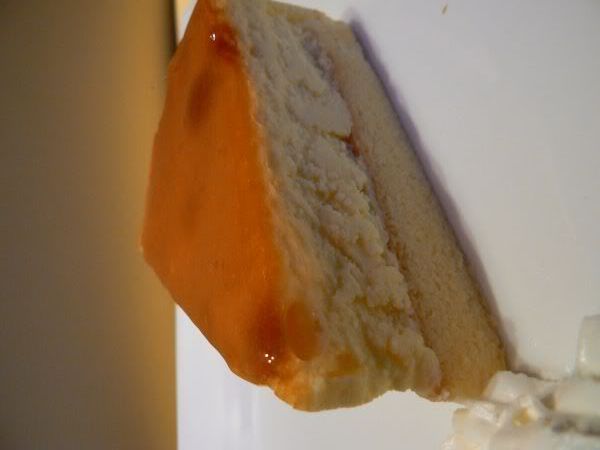 Last but not least, there's the GJ Cheesecake (RM12.90) - creamy cream cheese on top of a light sponge base.
On the music side, there's a live band every night from 10 pm onwards. Every night there is something different, the night we dined here it was Bossa Nova music with Cheong which was really good stuff and pretty romantic. On Sunday, there's live JAM sessions and Juwita Suwito will be performing on this Friday and Saturday night. For the full details of the schedule, go to Groove Junction's website.
Thanks so much for dDoinkster Speaks for organising and to the Groove Junction people, Joanne and Jennifer as we all had a great time. It was nice meeting KY Speaks for the first time and also seeing Riz and Lyrical Lemongrass again.
Groove Junction1-1, Jalan 22A/70ADesa Sri HartamasKuala Lumpur
Tel No: 03 - 6201 8990
(Pork Free. Closed on Mondays. Open from 6pm onwards.)
Tagged with: Groove Junction + Desa Sri Hartamas